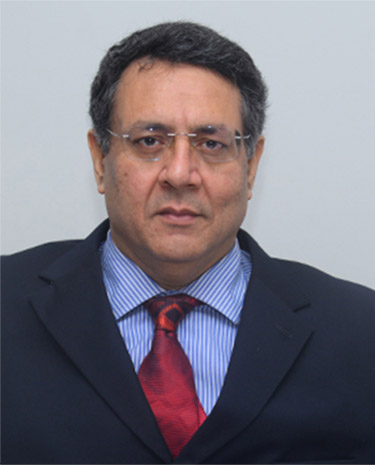 K.R.S. Jamwal
Executive Director
KRS Jamwal, as executive director of Tata Industries, is responsible for the incubation of new ventures (such as Tata Health and Tata UniStore) as well as investments made by Tata Industries in new businesses and start-ups.
Mr Jamwal is also on the board of Tata companies such as Tata UniStore, which owns Tata CLiQ, a one-of-a-kind, leading multi-brand e-retail platform; Inzpera Healthsciences, a health sciences company that markets palatable and efficacious therapeutic products (where he serves as Director and Chair of the board) and Tata Medical & Diagnostics, a leading-edge healthcare solutions provider. He is also a member on the board of the overseas subsidiary of Tata Industries — Qubit Investments Pte (Singapore). He represents Qubit on the boards of: Flisom AG, which manufactures flexible, lightweight solar modules at market-comparable efficiency and costs; i3 Equity Partners, a Tel Aviv based technology incubator in IoT (Internet of Things) and industrial IoT; and SDX Partners LLC, USA, which provides seed funding to student-initiated business ideas at the Massachusetts Institute of Technology, Boston.
Mr. Jamwal has in the past served as Director and Chair of the Board of Tata SmartFoodz Ltd (sold to Tata Consumer Products Ltd), Tata Advanced Materials Ltd (sold to Tata Advanced Systems Ltd), Advinus Therapeutics Ltd (sold to Eurofins Group) and Drive India Enterprise Solutions Ltd (sold to TVS Group).
Prior to joining Tata Industries, he served as Vice President, strategy, group corporate centre, Tata Sons, assisting the then Group Chairman, Ratan Tata, on strategy-related matters concerning Tata companies and supporting him on special assignments such as the Investment Commission (2005-2009) and the US-India and UK-India CEO Forums.
Mr Jamwal started his career with TAS (formerly known as Tata Administrative Services) in 1989. His initial assignments, such as with the Indian Hotels Company Ltd. (Taj Group of hotels), included project management for setting up new hotels and flight catering units, with subsequent responsibilities relating to strategic planning and mergers and acquisitions. He holds a Post Graduate Diploma in Management from the Indian Institute of Management (IIM), Ahmedabad, where he was awarded the scholastic gold medal and the KV Srinivas Award for the best all-rounder. He holds a Bachelor's degree in technology in petroleum engineering from the Indian School of Mines, Dhanbad, and was awarded the scholastic gold medal and the best student shield.